43180705
story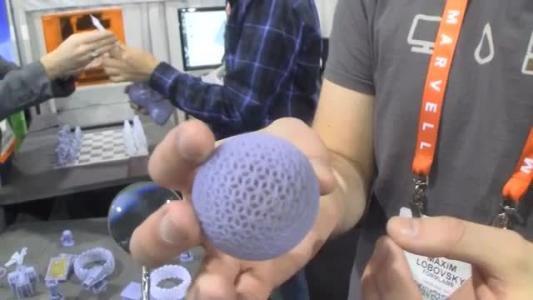 "It uses a totally different process called
Stereolithography
," says Max Lobovsky, while other low-cost 3D printers use a process called FDM (
fused deposition modeling
). Max explains the differences between the two processes in the video, but what it comes down to in the real world is that his process can "do features down to 0.3 mm," which, he says, is much finer than you can get with FDM. It also seems that structures made with Stereolithography can be made stronger and can be machined more accurately than those made by the FDM process. So this is another step toward fully-useful home fabrication of... almost anything. So Formlabs and the company's initial product, the
Form 1
, are interesting. And surely there will be other "consumer" Stereolithography machines in the market before long, and prices for both the machine and the chemicals they use as raw materials will come down. Meanwhile, a company called
3D Systems is suing Formlabs
for patent infringement. This isn't a nickel and dime deal;
Formlabs raised $2,945,885 through Kickstarter
, says TechCrunch in a story about the suit. And since their 3D printer is an order of magnitude less expensive than earlier Stereolithography machines and the company's future looks bright, 3D Systems might be better off taking a stock settlement than going for cash.
They've settled with other alleged infringers before
, so there's a precedent for that idea. Suit or no suit, Formlabs is going forward, building and shipping 3D printers as fast as they can -- and President Obama
mentioned 3D printing in his State of the Union speech
last night, which will surely help boost the entire industry, including Formlabs.